Main page > Conferences > Russia and India&China Prospects of Energy Cooperation


Russia and India&China Prospects of Energy Cooperation
Key topics of Konstantin Simonov's speech at The International conference "Asia-Pacific Security Challenges: Implications for Europe and the Atlantic Alliance"
Prague, Czech Republic, September 9, 2008.
(Read this speech's presentation in PDF
150 KB)
China and India: Much in Common
Traditional stake on coal: 56% in energy generation of India, 65% in energy generation in China
Lack of Oil and Gas Reserves
Forecast of economic growth is 8-12%
Diagnostic: hydrocarbon starvation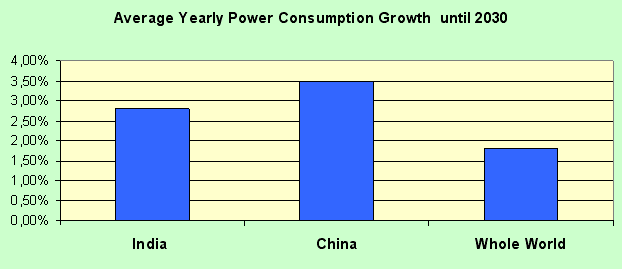 Source: EIA
First Problem will be Oil
Serious gap between oil production and consumption: 90 mln tons in India and 180 mln tons in China

Source: BP
Second Problem will be Gas

Source: BP
Gas production in India in 2006 was 30,4 bcm, consumption - 36,6 bcm
The serious increasing of consumption: the production of gas will be behind consumption very soon
International Energy Agency: China import of gas in 2020 will be 80-160 bcm
Forecast of gas consumption in India : 2010 - 75,6 bcm, 2012 - 114 bcm, 2030 - 243 bcm. Forecast of production in 2030 is less then 40 bcm

Source: BP
Crusade for Oil and Gas
At the end of 2006 India invested more them $5,5 bln to foreign upstream ($2,8 bln in Russia). Projects in 14 countries
But energy expansion has serious limitation
Europe and United States will be competitors of IC in Arabian Gulf, Central Asia and Africa
China and India in Energy Trap
10 Main Countries on Proved Reserves of Oil (2007)
10 Main Countries on Proved Reserves of Gas (2007)
Saudi Arabia
21,3%
Russia
25,2%
Iran
11,2%
Iran
15,7%
Iraq
9,3%
Quatar
14,4%
Kuwait
8,2%
Saudi Arabia
4,0%
UAE
7,9%
USA
3,4%
Venezuela
7,0%
UAE
3,4%
Russia
6,4%
Nigeria
3,0%
Libya
3,3%
Venezuela
2,9%
Kazakhstan
3,2%
Algeria
2,5%
Nigeria
2,9%
Iraq
1,8%
Oil: more diffused raw material but the problem of transportation (Strait of Hormuz)
Gas: three countries control 55% of proved reserves
Diversification of Ånergy Supply – Impermissible Profusion
Sutuation with gas is the most dramatic
LNG: the beginning of supply from Australia, Algeria, Nigeria, Oman, Malaysia and Indonesia. But the stake on LNG can be problematic. This market is very competitive
Australia, Malaysia, Indonesia, Burma – local solutions (no serious reserves, no possibilities of significant increasing of production)
Central Asia: "word of honour reserves"
Turkmenistan: Production of gas in 2007 was 67,4 bcm ( 2,7%)
"Word of honour": 250 bcm in 2015 ( 370%!!!)

Two Gas Alternative
Real alternative: Russia or Iran
Iran: two Problems. Political Future and Transportation Routes. Pipeline form Iran to India through Pakistan. More than 2000 km of political instability
Russia: the problem of Choice between European and Asian Markets
January-August, 2008: oil production 0,6% gas production 3,1%
Special thanks from China and India to the theorists of "energy weapon" and "diversification of energy supply to Europe"
Thank you!

Services and Mechanical Engineering for Oil and Gas: Are Industry's Foundations Secure?
Sanctions against Russian Oil and Gas: Pressure Continued
Arctic: Soviet-type Gigantomania or Breakthrough Project?
State regulation of the oil and gas sector in 2018, prospects for 2019
Gazprom on Path to New Reality
Looking for Best Tax Treatment of Oil and Gas: Fiscal Experiments Continued
Results of Pivot to the East in Oil and Gas Sector
New government structure and FES: Reformatting the state system administrating the sector
All reports for: 2015 , 14 , 13 , 12 , 11 , 10 , 09 , 08 , 07