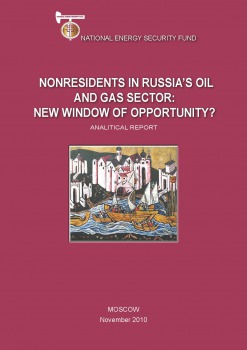 Dmitry Medvedev's presidential term in office began with a symbolic act: practically simultaneously with his inauguration the new law "On Procedures of Implementing Foreign Investments in Commercial Organizations of Strategic Importance in the RF" went into force. The document was considered as unfriendly towards nonresidents. However, one cannot say that this law and later amendments to the law "On Subsoil" radically worsened work conditions of foreign companies operating in Russia. The matter was probably that while oil prices were high Vladimir Putin tried to make it clear to nonresidents that they could be just junior partners of Russia's large state firms or majors with state participation that had preferential rights to acquire licenses of new projects on favorable conditions.
That period marked the beginning of a peculiar psychological war between Putin and nonresidents. On one side, Putin understands there are very few places in the world where costs of production of hydrocarbons are low and political risks are minimal. The resource nationalism has rapidly spread around the planet; political risks in countries rich in oil and gas have also increased, while the economic crisis, new kinds of fuel and energy efficiency policies have not substantially reduced the world demand for hydrocarbons. The oil spill in the Gulf of Mexico at a BP platform vividly demonstrated that the easily retractable oil is running out and companies are ready to produce oil in rather complicated conditions. Access to deposits is an expensive privilege. And Russia is not the worst place for investments compared to Latin America, Africa and Central Asia.
On the other side, cheap hydrocarbons are reducing in Russia too. The production is shifting northwards and eastwards, while it is sharply falling at Soviet built brownfields; the production cost of oil and gas is becoming substantial. Meanwhile, having accumulated licenses Russian companies do not hurry to invest in greenfields. Technological backwardness also influences the situation, e.g. domestic companies are simply unable to implement many activities offshore. This means non-residents have to be attracted and this should be done already now.
As a result, Putin and administrative clans around him are solving a difficult task: how to make nonresidents invest in Russia but simultaneously not to significantly ease conditions of their work. Foreigners are interested in working in Russia but they are not ready to do so without investment and tax preferences. So far they have heard only promises.
The report will elaborate on the following issues: