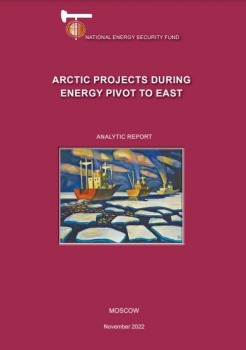 The 24 February 2022 events have, on the one hand, radically rewritten the economic agenda and, on the other, revealed the actual status of projects that have been said to be actively developing for many years now.
While before the heavy sanctions one could turn a blind eye to the implementation rates of the plans that were constantly voiced by high-ranking officials, now the fate of the Russian economy depends on their status without any exaggeration. One of them is the Arctic.
The closing European markets have dramatically increased the need for delivery routes to Asia.
Everyone has recalled that many years ago promises were made already to turn the Northern Sea Route into a fully functional transport artery. One that will make it possible, among other things, to remove oil and LNG from Arctic fields.
The need for export to the east via the NSR is obvious. But the trouble is that there are difficulties rather than breakthroughs poised to happen. Besides, production projects in the Arctic that have for a long time been viewed as a new centre of oil and gas production need to be audited too.
The new report covers the following subjects:
Staff changes in the system of government administration of the Arctic
Upgrade of strategic documents on Arctic development
Including the new Northern Sea Route Development Plan to 2035
Mere formalities still or change of approach?
Analysis of the actual status of the NSR
Including development of the icebreaker and tanker fleets as well as port and other infrastructure
Can the logistics really be reorganised towards the east?
New system of government administration of the NSR
Corporate projects to develop production and export of hydrocarbons in the Arctic
Intensification of fight between lobbyists for allocated resources
Situation with LNG production in and export from the Arctic
Influence of technological sanctions and problems with gas tankers
Medium-term outlook for Arctic and NSR development
Contents of the report:
| | |
| --- | --- |
| INTRODUCTION | 3 |
| CHANGES IN GOVERNMENT ADMINISTRATION OF THE ARCTIC | 5 |
| NORTHERN SEA ROUTE AS SPECIAL HOPE AGAINST SANCTIONS | 13 |
| MAIN CORPORATE ARCTIC OIL AND GAS PROJECTS | 28 |
| Gazprom Neft's Oil Projects | 29 |
| LNG Projects | 31 |
| Vostok Oil | 40 |
| FUTURE OUTLOOK | 44 |
| | |
| --- | --- |
| Date of release: | December 20, 2022 |