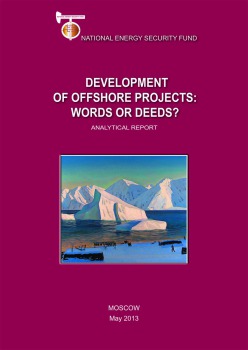 The focus on offshore projects is an old and stable trend in development of the world oil and gas production industry. In Russia there are active debates about huge potential of our shelf; however, there are serious problems with moving from talking to working.
The government promises significant assistance, both infrastructural and fiscal. But this does not seem to be sufficient. As a result, there is a question whether the shelf will become a lifeline of the Russian oil and gas sector. Moreover, the state is starting to speculate about other projects, such as untraditional oil, not even having begun the real development of offshore fields.
The analysis of real time frames of the launch of breakthrough shelf projects is a central topic of this report.
The report elaborates on the following issues:
State regulation of shelf development

Evolution of shelf programs
New configuration of elites, their views on shelf projects
System of state control over shelf exploration

Shelf owners

Rosneft and Gazprom defend their monopoly
Do private companies have chance to change the situation?
Possible privatization of state companies, legal collisions caused by that

Foreign corporations on the Russian shelf

Analysis of swap deals
Role of nonresidents on the shelf, their zone of responsibility

Upcoming taxation revolution

Analysis of new system of taxation of shelf projects
Position of its opponents, time of its introduction, possibilities for further revision

Prospects of developments
The contents of the report:
| | |
| --- | --- |
| Introduction | 3 |
| Chapter 1. Oil and gas potential of Russian offshore zone | 4 |
| Chapter 2. Administrative struggle for access to offshore resources | 14 |
| Chapter 3. Foreign companies on the Russian shelf | 29 |
| Chapter 4. Awaiting fiscal revolution offshore | 37 |
| Prospects of medium-term developments | 48 |
| | |
| --- | --- |
| Date of release: | May 27, 2013 |